Security since 1981
THE COMPANY GSS
gss Gerl-Schindler Wach- und Sicherheitsdienste GmbH & Co. KG is an owner-managed, medium-sized security service company. Since our foundation in 1981, we have constantly and very successfully adapted to the complex and changing challenges in the security sector. We are active nationwide with a focus on Bavaria and Southern Germany, as well as abroad if required. Employees from our sister company GS 24 Paza si Protectie Srl have been guarding several plants belonging to a Bavarian corporation in Romania for more than ten years.
Accurate, friendly and helpful, the gss security team protects while saving time and money.
>> For you, the added value means no extra costs!
gss provides personnel, technical and conceptual security services for industry, commerce, research institutes, banks, and public sector clients.
For 37 years we have been synonymous with competence, reliability and quality in the following headings:
Full service concept
We are convinced that our customers want more than just classic security. That is why we are constantly optimising and expanding our range of products and services by adding useful elements and continuously monitoring the quality and benefits of our services.
What we want to achieve is a symbiosis of classic security services, technical systems, prevention and presence. Which is why we create individually tailored protection concepts and provide supplementary services. Our customers therefore benefit from a high level of security and an attractive service level at attractive conditions.
If you ever give us a remit for something that we are not experts in, we cooperate with qualified professionals to achieve the desired result. In any case we take over the coordination and overall responsibility for your project.
Core business
Our core business is personnel, technical and conceptual security services for industry, the entire commercial sector and public clients, which we summarise under the following headings:
SECURITY (protecting life, limb and property against external threats)
SAFETY (reducing risks from operational activities, e.g. occupational health and safety, environmental protection, fire protection)
SERVICE (e.g. reception, service points, post offices, telephone exchanges and much more)
CONSULTING (conceptual and pragmatic consulting along the entire "security value chain" as well as planning and supporting events)
AEO/known consignor, food defence, corporate and organisational liability, aviation security regulations and security procedures are not foreign words for us, but our day-to-day business. Our four business divisions SECURITY, SAFETY, SERVICE and CONSULTING are backed up by concentrated expertise and experience from hundreds of jobs and projects.
Experience and long-term cooperation
Most of our customers have been relying on the quality and reliability of our services for many years. We don't duck away when there's a problem. All our managers are personally responsible for specific customers and can be reached directly. And our owner and managing director Stefan Krischik himself worked as a commercial manager and managing director at well-known industrial companies for more than 25 years before taking over gss in 2017 – an excellent basis for understanding our customers' requirements for a competent security service provider!
Sales development GSS 2010 to 2017

Certifications & Memberships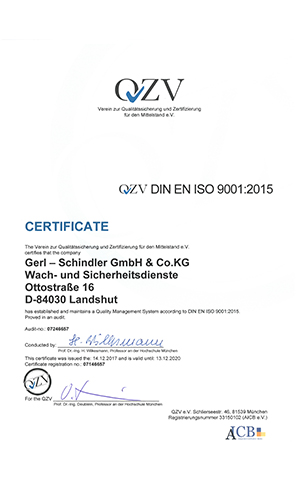 Trained permanent employees
Extensive experience - certified processes
24-Hour hotline 365 days per year
Targeted protection, tailored to your needs